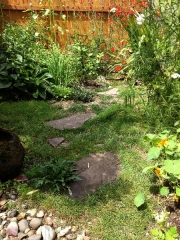 My sister's new garden is nestled within hilly SW Portland. It is compact and lush.  I didn't realize you could harbor such variety and fullness in a small space. Chalk it up to my sister's sense of order and tidiness.
Meandering nasturtiums splay over the edge of the patio. They thrive on the concrete's radiant heat.
A curvy flagstone path wends into the back corner, as if there were more to see just around the bend. Crocosmia has nearly finished blushing scarlet; a few sunflowers reach skyward (why aren't the centers going black, she wants to know).
In their midst stand gayfeather (liatris spicata) and a staked tomato!
The piece de resistance anchors the back wall – two significant clumps of bamboo confined to an elegant wood planter she purchased up the coast. It is both an appreciation of things past and a recognition of bamboo's beauty constrained by reality: you don't want these aggressive grasses overrunning your main garden.
My sister tends her new garden with care and delight. Whimsey and prudence. Premeditation and pluck.
The first thing she installed was the incandescent string of lights vining the translucent, shed-like roof over the sitting area, which is the perfect place for enjoying the flora while reading, writing, sipping – or, finding a brother savoring Sauvie Island Blueberries with Barbados Cream. Heaven.