My cat, she has no weekend plans
Each day begins as new
It starts whenever she awakes
It ends when she is through
She rises when she hears my sounds
She has but one suggestion
Feed me now, she cries aloud
Supply me my ingestion
Incessantly she pleads her case
As if it needed pleading
The same refrain throughout the day
"I think it's time for feeding"
She's never grateful or annoyed
A flare up quickly settles
She holds no grudge or looks that judge
She bothers not to meddle
The opportunity to be
A cat within the rat race
Would make her yawn, she'd just as soon
Scratch the nearest scratch place
My cat, she has no Facebook page
She hangs with who's around her
She naps or not or wakes or walks
Wherever she has found her
I make my plans for future days
She only makes a meow
Insisting in this moment
That I feed her and be here now
The day is blustery and seasonably crisp. There is a frost warning for Plymouth County tonight. Yesterday brought warmth and a steady offshore breeze for a perfect fall beach walk at Humarock beach.
Normally uneven and rock strewn,  the ocean at low tide provided a smooth, wide swath of lightly packed sand like a freshly paved road.
The wind whipped and curled the modest waves which beguiled a couple of surfers. 
A bicyclist rode by. We exchanged hellos and nods to other couples. And a few dogs.
Afterwards, we gleaned late season tomatoes from our friends' garden since they're traveling in Southeast Asia. It is truly fall.
January was named in honor of Janus, the two-faced Roman god of endings and beginnings. On this, the first day of 2014, I mourn an ending and welcome a beginning.
In mourning
Our modern age says chaos reigns: entropy, Heisenberg's uncertainty, Max Planck, quantum mechanics. But our hearts are not mere quanta, empty and full; we yearn for the ancient premise of a perfect universe in perfect harmony.
My friend, Vladimir Barsukov, died suddenly on Tuesday, December 10, 2013. We knew him as a student and teacher of kinetic art, perpetual mobiles. Vladimir said: "I've always been fascinated with beautiful and functional objects that rely on basic principles of mechanics and geometry. The movements remind the viewer of the fragility and interconnectedness of life."
Born in Russia, January 21, 1945, and educated as a mathematician and physicist (Ph.D. Saint Petersburg University, 1967), he was a researcher and teacher at MIT from 1990 – 2005, and maintained a passion for mobile making throughout his life.
Vladimir was an artist, a dreamer, and a restless seeker. His childlike vision delighted in everyday things –
He thought, he taught, he labored and questioned. He balanced shapes and wires in marvelous symmetry; his mobiles were like living creatures to him, continually moving and changing in space, light and color.
I was among his many students, who marveled at the simple joy he taught of balancing and bringing to life the elements of kinetic sculpture. He shared his talent and taught with wit and a contagious love of knowledge. Vladimir was the universal man. Scientist and spiritualist, cynic and romantic, outsider and world citizen. He worshiped at the alter of insight, harmony and balance – literally juxtaposing opposing forces to create a world in balance.
He trafficked in the music of the spheres and conjured up a universe in harmony — both science and art fully realized. Vladimir once said "Through my work I have discovered what many others have noticed: that precise science and art both reflect nature in a beautiful and elegant way." Amen, brother.
In my winter garden, Vladimir's "Sarabande" still celebrates his presence. In motion.
Here he and his wife, Ann Dix, install Sarabande in my garden, October, 2010.
Ryan Flynn visits our house frequently with our granddaughter, Maisy, whom Vladimir adored. Ryan offered this:
May he make heaven a little cooler with his sculptures.
Besides our sadness, our thoughts are with Ann, who has lost an irreplaceable partner. I am grateful to her for sharing her saddest of news. It was an honor to be Vladimir's friend.
Kensington Stone Braithwaite
He was dressed for the new year in typical Braithwaite style. We are thrilled with our newest family member.
Once we asked a well-regarded landscape architect, Roger Washburn, to consult. It turns out we could not afford him but he was generous with his time and ideas. Among other things, he noted our stand of tupelo trees. My tree knowledge is limited so it was noteworthy to me that they were noteworthy to him.
Our tupelos stand behind the weathering Tin Man; they anchor the hanging garden mirror and, here's the part I'm getting to — they announce the peak of summer.
The tupelos are the first to turn color and drop a leaf and they typically do so in early July, which makes sense from a plant perspective, being on the waning side of summer solstice. This year's tupelo turn came two weeks late. What now?
Summer Harvest
Our summer's peak saw a blistering heatwave that started early and ended late. Still, the flowers were heavenly. For example, the hydrangea by the back door trellis had hundreds of blue heads, the kousa dogwood is still in bloom, the monarda and phlox are swarming with bees, hummingbirds and butterflies. The swimming pool has been our respite.
More recently degrees have ranged from low 60's F to mid 80's F. And rain.
When it was just too hot outside, we enjoyed the blooming harvest inside. This garden is my joy.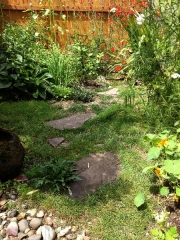 My sister's new garden is nestled within hilly SW Portland. It is compact and lush.  I didn't realize you could harbor such variety and fullness in a small space. Chalk it up to my sister's sense of order and tidiness.
Meandering nasturtiums splay over the edge of the patio. They thrive on the concrete's radiant heat.
A curvy flagstone path wends into the back corner, as if there were more to see just around the bend. Crocosmia has nearly finished blushing scarlet; a few sunflowers reach skyward (why aren't the centers going black, she wants to know).
In their midst stand gayfeather (liatris spicata) and a staked tomato!
The piece de resistance anchors the back wall – two significant clumps of bamboo confined to an elegant wood planter she purchased up the coast. It is both an appreciation of things past and a recognition of bamboo's beauty constrained by reality: you don't want these aggressive grasses overrunning your main garden.
My sister tends her new garden with care and delight. Whimsey and prudence. Premeditation and pluck.
The first thing she installed was the incandescent string of lights vining the translucent, shed-like roof over the sitting area, which is the perfect place for enjoying the flora while reading, writing, sipping – or, finding a brother savoring Sauvie Island Blueberries with Barbados Cream. Heaven.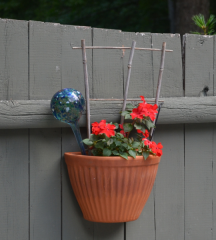 The perennial garden is at another peak – this time with summer blooms of hydrangea, evening primrose (
), bee balm (
monarda
), cone flower (
Echinacea
), lady's mantle (
Alchemilla mollis
) and day lilies too various to mention (
see this article)
. Plus continually blooming roses,  emerging liatris spicata (Gayfeather) and surprise reappearance of sweet smelling daphne. And, of course, classic annuals. Everything seems early this year.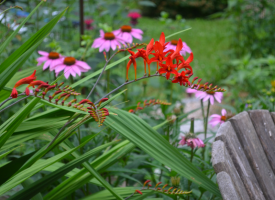 Spring blooms of Japanese dwarf spirea, clematis, astilbe and peonies have faded. The honeysuckle over the trellis is not very happy this year – thinner and fewer blooms, some blackened. I'm trusting this rugged perennial will recoup next year.
I'm a gardener on vacation – which is a special opportunity to reconnect with dirt, buds and beauty.  And weeds. I used my push-pull loop hoe along the driveway bed (80 feet) to clear several years' of embedded weeds.  This is an awesome hoe that makes weeding, if not fun, at least productive.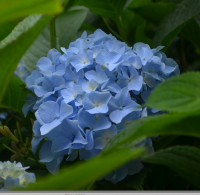 This year's hydrangeas look so, so blue. Roses in the Betty Garden spill profusely over the stone wall. Family and friends gathered for our almost annual July 3rd party, celebrating summer and fireworks on Humarock Beach. Scituate police enforced a bonfire ban this year but mobs of people and fireworks attended the traditional fest nevertheless.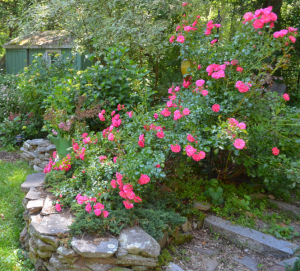 Our house is literally abuzz outside with painting preparation. We recently reshingled and re-roofed, the next step will conclude a major exterior renovation long in the works. The carpenter who was prepping the trim discovered (how fitting) carpenter ants on the back wing of the house. Bummer. We're waiting for the exterminator.
End of vacation – tomorrow we'll see Cirque du Soleil ("Totem") perform at Boston Marine Terminal.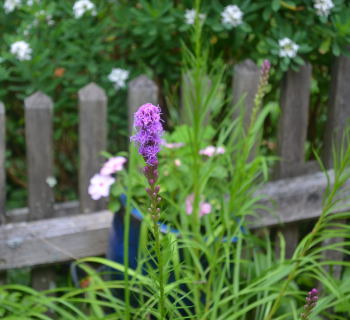 How Dry I Am
Kate and Ryan gave me a rain gauge for my birthday. How neat. I like that it measures my rain in my yard – no more looking up our regional rainfall in the Boston Globe. I'm empowered!
Our friends, Grace and Jerry, went a step further and installed a sophisticated electronic weather monitoring system. It required them to scale heights to attach an anemometer onto their roof. I'm not there yet.
We have a winner
Also for my birthday I was gifted with a lottery ticket. It delivered me $100! I purchased with the proceeds a new white flowering dogwood (cornus florida) and heaved it into the earth close by our cherished, but aging, same variety dogwood that so beautifully graces the yard in April and May. Mild winters provide a bountiful spring bloom and there is nothing more special than that tree in our garden. Hence, adding a new generation before the old one passes.
Tick Smarts
I recently joined the Arnold Arboretum and attended a lecture there on Thursday, May 17 called "More Ticks in More Places" presented by Dr. Thomas Mather from the University of Rhode Island  Tick Encounter Resource Center (tickencounter.org). Smart guy. Massachusetts and Rhode Island are the epicenter for deer tick-borne Lyme disease. It's worth looking at his excellent website for all tick-related concerns.
Also, there's a new tick approaching from our south called Lone Star tick – Long Island and New Jersey are already infested; it carries Rocky Mountain Spotted Fever. Fun.
As a result, I'm in the market for permethrin treated clothing and we just renewed Daphne's "Evolution" treatment. He covered so much – dispelling myths, top ten things everyone should know, personal protection measures, safe removal, etc. Tip: after you come in from outdoor activity, throw clothes in the dryer first, then the wash. Ticks die in dry heat, but may survive washing.
A Man's Home Is His Castle
Prepping for our golden years, we've begun a comprehensive house renewal program. New shingled roof, replaced worn and weathered trim boards/sills, created a portico (!) over the front door, four new windows, and new stoop and replaced cedar shingles on the back of the house. Son-in-law Ryan Flynn (yes, that Ryan Flynn) designed and crafted the portico. We're delighted! We believe the painters will start next week. Maisy appraised our new white cedar shingles yesterday and declared: "Nice and clean!"
Midday Saturday on a beautiful May weekend. Chores. This evening we attend a performance by Coro Allegro of Rachmaninoff's Liturgy of St. John Chrysostom at the Church of the Covenant in Back Bay.
New England, March 2012: So odd to have late June's cameo appearance.
We pensively enjoyed the abundant warmth and sunshine, while summer's annoyances buzzed and swarmed around us, eventually driving us inside from the patio.
So many things sprang to life this week – the helleboros from Grace & Jerry, which must be thinned and would probably work better at the foot of the stone wall; our accidental hyacinth — a reliable, discarded gift from a beau to one of our teenage daughters, who are both in their 30's now; streets bursting with magnolias already past their peak on Commonwealth Avenue, Boston; and, allergies galore.
I began clearing last year's garden refuse and I re-installed the garden foot bridge on reset brick footings that lower the leading edge of the bridge so it's neatly flush with the adjoining patio. This fundamental satisfaction I will enjoy forever. On walks at Humarock Beach I'm harvesting tumbled, black stones to supplement my medium hard-scape around the bridge; I will place the rounded rocks such that they become a Zen garden-like flow.
It's too early to put out my little water feature because here in New England, in March or April, a sudden freeze can descend at any time. One doesn't put out one's tomatoes before Mother's Day. My wish is for a brief cold snap to kill off the flying insects that hatched prematurely, then, a long, drawn out spring with just the right amount of rain. We can have the most spectacular Mays and Junes.
Spring is planning and planting and visioning and acting. Who knows how this season will progress? Is the sudden warmth a friendly lark or a portent of grave weather to come? Neither, both.
I got the White Flower Farm Spring 2012 catalog this week. It's a page turner as usual, with saturated floral images of garden gems in perfect flower – where the reds are redder, the greens greener and the true blues truer than life. One day, there might be a garden catalog with wilted, spent flowers going to seed. Unlikely.
My garden overwinters – stark and dreary, especially without frost or snow cover. I hope it gets cold enough to kill the bad bugs; I hope there is enough snow cover, eventually, to supplement the good stuff (my brother told me snow is the poor man's fertilizer). But, I digress. What is really at work is stillness. No growth, just the remnants of the garden being earth bound — skeletal, essential, and creating reserves for the proper blooming time.
What I have is garden mind.
Our garden (aka, "R" Garden) sits, while last year's beauty decomposes into next year's growth. I see the garden's shape from our upstairs window – the straight and curvy lines, the beds, the flow from one section to another joined by lawn, paths, steps, and bridges. I like this flow and work to refine it in my mind: firm up that edge with a low border, trim that shrub to be a better neighbor, hack that pachysandra, reset those stones, et cetera. In a process of refinement, endless tweaking shapes the garden and morphs its profile. Its essential personality, established long ago, matures incrementally, bringing charm, whimsy and nature into harmony improved by age.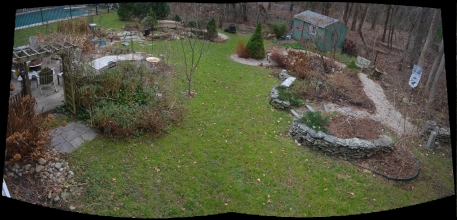 Of course it's a living thing and changes occur, apparently spontaneously, as well. Like the clumping bamboo that finally, finally decided to become the screen I imagined ten years ago. Who knew it would take this long? I suppose that's where annuals come in. They provide the instant gratification that delights the eye and other senses. Not much mystery but adornment galore and great expectations easily met. We enjoy the splash, the visual spice, and the abundance of blooms overlaying the perennial foundation.
The garden mind dwells on ideas and suffers no toil. No: weeding, spraying, mowing, aching backs or biting
no-see-ums
. It sees golden possibilities; it harbors hopes and plans — flights of fancy that could occupy the whole of next season. It's a great place to visit.