January was named in honor of Janus, the two-faced Roman god of endings and beginnings. On this, the first day of 2014, I mourn an ending and welcome a beginning.
In mourning
Our modern age says chaos reigns: entropy, Heisenberg's uncertainty, Max Planck, quantum mechanics. But our hearts are not mere quanta, empty and full; we yearn for the ancient premise of a perfect universe in perfect harmony.
My friend, Vladimir Barsukov, died suddenly on Tuesday, December 10, 2013. We knew him as a student and teacher of kinetic art, perpetual mobiles. Vladimir said: "I've always been fascinated with beautiful and functional objects that rely on basic principles of mechanics and geometry. The movements remind the viewer of the fragility and interconnectedness of life."
Born in Russia, January 21, 1945, and educated as a mathematician and physicist (Ph.D. Saint Petersburg University, 1967), he was a researcher and teacher at MIT from 1990 – 2005, and maintained a passion for mobile making throughout his life.
Vladimir was an artist, a dreamer, and a restless seeker. His childlike vision delighted in everyday things –
forks, spoons, as well as textures, shapes, colors and materials of all kinds. Infinitely curious and unabashed, he touched every object he encountered at the Marshfield Festival of the Arts with us in May 2011, querying vendors about their designs, finishes and techniques – an alchemist exploring another clue.
He thought, he taught, he labored and questioned. He balanced shapes and wires in marvelous symmetry; his mobiles were like living creatures to him, continually moving and changing in space, light and color.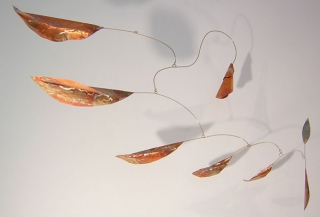 I was among his many students, who marveled at the simple joy he taught of balancing and bringing to life the elements of kinetic sculpture. He shared his talent and taught with wit and a contagious love of knowledge. Vladimir was the universal man. Scientist and spiritualist, cynic and romantic, outsider and world citizen. He worshiped at the alter of insight, harmony and balance – literally juxtaposing opposing forces to create a world in balance.
He trafficked in the music of the spheres and conjured up a universe in harmony — both science and art fully realized. Vladimir once said "Through my work I have discovered what many others have noticed: that precise science and art both reflect nature in a beautiful and elegant way." Amen, brother.
In my winter garden, Vladimir's "Sarabande" still celebrates his presence. In motion.
Here he and his wife, Ann Dix, install Sarabande in my garden, October, 2010.
Ryan Flynn visits our house frequently with our granddaughter, Maisy, whom Vladimir adored. Ryan offered this:
May he make heaven a little cooler with his sculptures.
Besides our sadness, our thoughts are with Ann, who has lost an irreplaceable partner. I am grateful to her for sharing her saddest of news. It was an honor to be Vladimir's friend.
Kensington Stone Braithwaite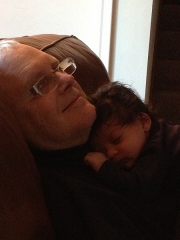 Forward-facing Janus celebrates our new grandson, Kensington Stone Braithwaite, born October 3, 2013 to Kristin Stone Braithwaite and Kenyatta Braithwaite. He arrived at 1:19am weighing 8 pounds, 2 ounces, at 20.5 inches tall with a very full head of hair, kind of Valentino style.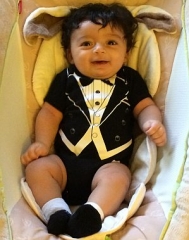 He was dressed for the new year in typical Braithwaite style. We are thrilled with our newest family member.