Sarabande is a mobile – kinetic art made from copper, bronze and aluminum, standing six feet tall with a six foot radius. She was conceived to replace a withered dwarf maple that once stood in the center of the garden. Whimsical wind mobiles, like garden sculptures, provide vertical and horizontal contrast — plus movement — to the surrounding perennials.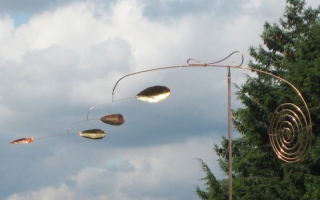 A Garden Dancer Comes to Life
Named for the courtly dance and musical movement from the Baroque era, Sarabande is the work of kinetic artist, Vladimir Barsukov (Perpetual Mobiles) from whom I took a mobile-making class in November, 2009. You might think of Alexander Calder, an American mobile artist whose work is in the Guggenheim Museum (NYC).
Sarabande was almost a year in the making because Barsukov had to experiment with ideas and materials that would scale to larger proportions and perform well outdoors – wind mobiles can have a rougher life. Barsukov invented a sturdy pivot to give the mobile the needed "degrees of freedom."
Besides freedom of movement, a mobile requires precisely balanced elements that communicate with each other, and sensitivity to slight, animating air movements.
Outdoors, a mobile must maintain its responsiveness while coping with extremes of wind, weather and elements; it must float on gentle breezes and ride out coastal gales. And do it all gracefully.
Installing the Mobile
I saw the first prototype at Barsukov's Cambridge studio in July, 2010. While the artist completed the final design, I had to figure out how to keep a mobile garden sculpture permanently straight and plumb.  Googling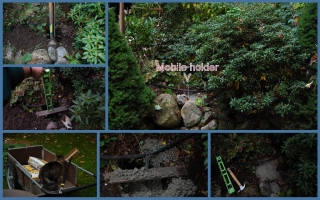 "Install flag pole" gave me a suitable plan — I used: a post hole digger, gravel, concrete mix, wooden brace, with a carpenter's level to set the holding tube in a solid base, and… voila! I had a stable home for my mobile (a mobile home?).
The dwarf maple stood leafless in its last years. Stark and twiggy, it became a favorite perch for small birds. Chickadees and humming birds would alight on the end of a tiny dead branch to rest; it was our snag tree. It toppled of its own accord just before Sarabande's installation on October 30, 2010. Sarabande was too broad for that spot so we installed her farther back, overhanging the dwarf mountain laurel (kalmia latifolia v. 'Elf'), Alberta spruce (Picea glauca 'Conica') and daphne. Originally a backyard patio idea, Sarabande moves gently and more subtly far away, where her long arm and large sweep complement her surroundings.
Reflections on Sarabande
As a foray in garden art, Sarabande makes quite a statement. A captive prima ballerina, both  sturdy and lithe. Across the garden stands Tin Man looking on. In the spring, when the woods behind fill in with green, I may install a reflective background to highlight Sarabande's dance-like movement.  Here's one idea I'm thinking of, using mirrored window panes: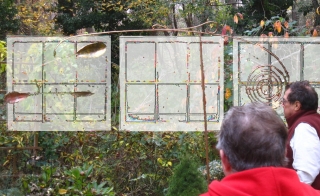 With Sarabande, Tin Man now has a garden partner.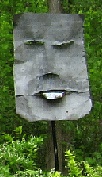 What moves your garden? Share the vision.