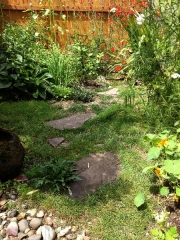 My sister's new garden is nestled within hilly SW Portland. It is compact and lush.  I didn't realize you could harbor such variety and fullness in a small space. Chalk it up to my sister's sense of order and tidiness.
Meandering nasturtiums splay over the edge of the patio. They thrive on the concrete's radiant heat.
A curvy flagstone path wends into the back corner, as if there were more to see just around the bend. Crocosmia has nearly finished blushing scarlet; a few sunflowers reach skyward (why aren't the centers going black, she wants to know).
In their midst stand gayfeather (liatris spicata) and a staked tomato!
The piece de resistance anchors the back wall – two significant clumps of bamboo confined to an elegant wood planter she purchased up the coast. It is both an appreciation of things past and a recognition of bamboo's beauty constrained by reality: you don't want these aggressive grasses overrunning your main garden.
My sister tends her new garden with care and delight. Whimsey and prudence. Premeditation and pluck.
The first thing she installed was the incandescent string of lights vining the translucent, shed-like roof over the sitting area, which is the perfect place for enjoying the flora while reading, writing, sipping – or, finding a brother savoring Sauvie Island Blueberries with Barbados Cream. Heaven.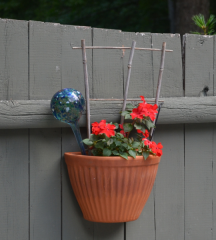 The perennial garden is at another peak – this time with summer blooms of hydrangea, evening primrose (
), bee balm (
monarda
), cone flower (
Echinacea
), lady's mantle (
Alchemilla mollis
) and day lilies too various to mention (
see this article)
. Plus continually blooming roses,  emerging liatris spicata (Gayfeather) and surprise reappearance of sweet smelling daphne. And, of course, classic annuals. Everything seems early this year.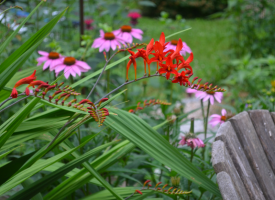 Spring blooms of Japanese dwarf spirea, clematis, astilbe and peonies have faded. The honeysuckle over the trellis is not very happy this year – thinner and fewer blooms, some blackened. I'm trusting this rugged perennial will recoup next year.
I'm a gardener on vacation – which is a special opportunity to reconnect with dirt, buds and beauty.  And weeds. I used my push-pull loop hoe along the driveway bed (80 feet) to clear several years' of embedded weeds.  This is an awesome hoe that makes weeding, if not fun, at least productive.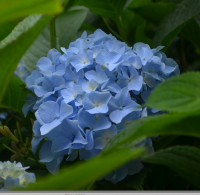 This year's hydrangeas look so, so blue. Roses in the Betty Garden spill profusely over the stone wall. Family and friends gathered for our almost annual July 3rd party, celebrating summer and fireworks on Humarock Beach. Scituate police enforced a bonfire ban this year but mobs of people and fireworks attended the traditional fest nevertheless.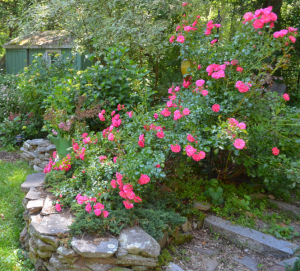 Our house is literally abuzz outside with painting preparation. We recently reshingled and re-roofed, the next step will conclude a major exterior renovation long in the works. The carpenter who was prepping the trim discovered (how fitting) carpenter ants on the back wing of the house. Bummer. We're waiting for the exterminator.
End of vacation – tomorrow we'll see Cirque du Soleil ("Totem") perform at Boston Marine Terminal.