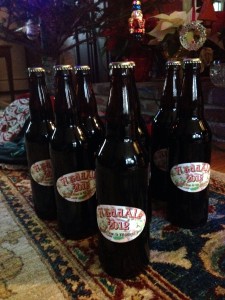 This year, after a long hiatus, I was inspired to brew a batch of "WaddAle," my nearly eponymous homebrew that I last concocted in 2006. The topic came up while we stood in Small Bar, a hole-in-the-wall beer joint in San Juan, Puerto Rico. Why not? Thus, the plan for WaddAle 2012 was born. Here's how it worked.
Assemble ingredients
I needed a beer kit. I'm not an adventurous ale maker, I use a kit of pre-selected, pre-measured ingredients. Then, I typically introduce a personal variation. On an errand I accidentally discovered The Homebrew Emporium, a new to me beer supply outlet in Weymouth, MA, managed, it turns out, by an old thespian friend, Jim Bowser. I took that as a good omen.
I selected their Nut Brown Ale kit (~$32). I've also used the True Brew brand kits from Pioppi's Package store in Plymouth, MA. These beer making kits contain all the ingredients plus brewing instructions, but you need your own equipment – brew pot, fermentation tank, tubing, valves, bottles, caps, capper, etc. Fortunately, the Homebrew Emporium has all that stuff. I had my equipment on hand from my old True Brew Maestro kit.
Next to godliness
The beer gods require cleanliness – the magic of fermentation creates alcohol and fizz but the nutrient rich  brewing medium (aka wort) can just as easily nourish invading microbes who will spoil your batch and doom your brew. I avoided that calamity by taking seriously the cleanliness principle. So, first step is always cleaning and sanitizing the equipment with a special cleansing solution (I used B-Brite).  I also bought new glass bottles, instead of reusing old ones. For my style of occasional brewing, saving money comes second to simplifying the process. I've since learned of a product called PBW (Powdered Brewers Wash) that's said to positively eliminate any organic residue – so thriftier folks should look into that.
Stinking up the house
If you relate well to the pervasive, hoppy/yeasty smell of a brewpub, you'll like the next part — brewing the wort. In my case, I announced my brewing plans in advance and waited til I had the house to myself for half a day to spare the sensitive noses.
Combining ingredients per the given instructions, you end up with a bubbling, gurgling, sometimes overflowing pot of deep brown liquid that cooks for about an hour. Toward the end of this process, I added 4 oz. organic chocolate and
slivered orange peel for seasonal effect, having sanitized the orange peel in advance.
The brewing step ends with transferring the hot wort to the fermenting tank, adding water to make 5 gallons and waiting for it to cool to the right temperature (~78° F.) to allow brewers yeast to kick in. Too hot destroys the yeast critters. I underestimated the cool down time — it took hours and hours (Note to self – start with really cold water in the fermentation tank next time).
Finally, I sprinkled and lightly stirred in the brewers yeast, snapped on the lid, fitted the airlock and lugged the tank into the back room. Next morning the fermentation bubbles were manically rattling the airlock. Yes!
Bottling the batch
Waiting for fermentation to complete took about 10 days. Bottling began with — you guessed it: sanitizing. Here's where having brand new, long neck bottles helps. To further reduce the cleaning and bottling effort, I used 24 oz. bottles, instead of 12 oz. ones. I cleaned and sanitized the bottles, bottle filler, filling tank and tubing in the downstairs bathtub using B-Brite again. Dissolving the priming sugar in boiling water, adding it to the filling tank and siphoning the fermented wort into it readies the filling process. Then, I simply attached the tube to the spigot and let 'er rip. Capping is fun and makes it feel like a real bottling operation.
Yikes – I almost forgot to sanitize the caps! Major mishap avoided by the timely reminder in the kit instructions.
Sharing the bounty
As Christmas week approached I retrieved bottled WaddAle from the basement fermentation zone, labeled each with my 2012 WaddAle label (Avery 22829), and packaged shipments for points west, north and south with instructions for awaiting complete bottle conditioning (another week or so). So, if you're a WaddAle recipient — today's the day! Open and salute the  end of 2012 and the beginning the new year! If you feel left out, well… get busy and brew!
10 Responses to "WaddAle 2012 – Marshfield Homebrew"