Marion Fowler Rasmussen, wife of Wayne D., mother of Paul, Karen and Linda, grandmother and great grandmother to a far flung bunch, passed away on Christmas Day, 2014, at 96+. Linda called with the news that evening while our house was full of our visiting family, members of Marion's clan.
We had recently visited at her home in Paxton, MA, outside of Worcester. Marion delighted in company. Even near the end the sparkle in her eyes remained. She adored the poinsettia from Karen and the new photo of Maisy that Kate brought. We snacked on deli and shared in guilty seasonal treats. We laughed, ooh'd, and ahh'd at photo remnants that Linda pulled from God-knows-where.
Recently she would ask, "Why won't the Good Lord take me?" with deepest sincerity. But, she did her duty as always, hanging on until it was time. Then, time came and she joined Wayne forever.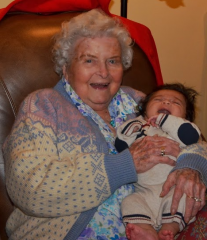 It is too soon to say much more. Thoughts will percolate at random moments, when you're doing a familiar thing and you suddenly realize you're missing a piece and then remembering. And, then, letting go, again. There are so many small goodbyes. A favorite story, a turn of phrase, a recipe, a joke, a championship game, an anniversary — the simple reminders of her presence distributed to so many people.
Marion shared her heart indiscriminately, becoming everyone's grandmother or mother once they encountered her enough to where she fixed you in her life. She had a talent for names and she made an extra effort all the time to know people by their names – clerks, boyfriends, orderlies and anyone else who crossed her path. She took delight in everything, it seemed.
Karen and I took a Boxing Day walk in Daniel Webster Sanctuary. It was sunny and clear, balmy for December. The paths are cropped short and still verdant. Overgrown brown grasses sway. We've had so much rain lately that a section is not passable.
Scads of geese group and wander, dropping droppings and eating. Smaller birds fly to and from the Audubon feeders while two turtles sun themselves on a risen trunk. Karen and Linda are busy making arrangements. The post-holiday slow down comes at the right time for this. The afternoon rays are low and long. Life observed.