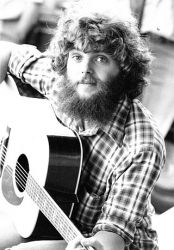 In my 20's I shared a house on the east side of Detroit with three other single, semi-employed guys. We became the "The Lakepointe House."
Ralph Bedard made loud sex, wrote poetry, and crafted flutes by hand from discarded bamboo.
Doug Ferguson (dulcimer) work-studied while finishing a degree at Wayne State University – history? Bob Cameron (guitar) drove a UPS truck as a fill-in driver and tried to keep his VW Beetle running.
I solo'ed as a folk/rock singer, guitarist at bars and coffeehouses across Michigan: Union Street Oyster Bar (Hi, Tom), The Ark (Hi, Rick), … It was the tail end of the 70's singer-songwriter era.
In The Lakepointe House we jammed a lot. Songs from across the 60's & 70's folk blues spectrum, as well as our own creations. Bob penned this favorite and in our diaspora we've shared it to all corners of our worlds.
It is many years later and it is August – a perfect time to sing "Joe Wouldn't Hoe."

Joe Wouldn't Hoe
By Bob Cameron, c. 1975

Chorus:
Joe wouldn't hoe the ground around his corn
He would stay in bed all the morn
The weeds grew high, up to the sky-eee
But the corn stayed down around his knees.

He got up in the spring to plant his crops
All the while thinking that he'd rather not
This corn he said is just too much work to keep
And with that thought in mind, he promptly went to sleep
(chorus)
[thanks, Doug, for the two next verses]

He went out one bright August day
Hadn't been out there since May
The weeds were wound around the Milky Way-eeee
But the corn was down around his knees

He went to the fair when it came
Farmers there kicked him out in shame
They said "We're not gonna share the blame-eeee
For the corn staying down around your knees"
(chorus)

Folks round there, their thoughts revealed
They thought his corn was an abandoned field
They thought his farm was an auto dumping lot
And when the harvest came, he had a bumper crop... get it?
(chorus)

Now every song has a moral they say
Weed your corn or you won't make hay
Spend some time or you're gonna pay-eeee
When the corn stays down around your knees
(chorus)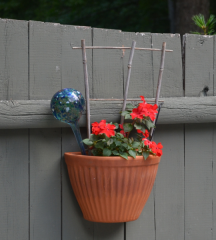 The perennial garden is at another peak – this time with summer blooms of hydrangea, evening primrose (
), bee balm (
monarda
), cone flower (
Echinacea
), lady's mantle (
Alchemilla mollis
) and day lilies too various to mention (
see this article)
. Plus continually blooming roses,  emerging liatris spicata (Gayfeather) and surprise reappearance of sweet smelling daphne. And, of course, classic annuals. Everything seems early this year.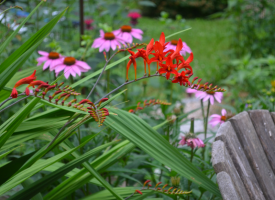 Spring blooms of Japanese dwarf spirea, clematis, astilbe and peonies have faded. The honeysuckle over the trellis is not very happy this year – thinner and fewer blooms, some blackened. I'm trusting this rugged perennial will recoup next year.
I'm a gardener on vacation – which is a special opportunity to reconnect with dirt, buds and beauty.  And weeds. I used my push-pull loop hoe along the driveway bed (80 feet) to clear several years' of embedded weeds.  This is an awesome hoe that makes weeding, if not fun, at least productive.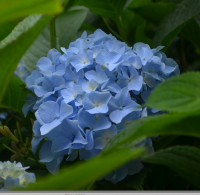 This year's hydrangeas look so, so blue. Roses in the Betty Garden spill profusely over the stone wall. Family and friends gathered for our almost annual July 3rd party, celebrating summer and fireworks on Humarock Beach. Scituate police enforced a bonfire ban this year but mobs of people and fireworks attended the traditional fest nevertheless.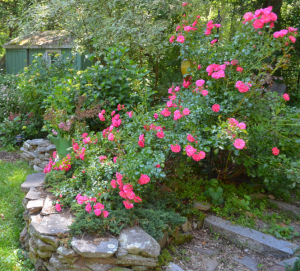 Our house is literally abuzz outside with painting preparation. We recently reshingled and re-roofed, the next step will conclude a major exterior renovation long in the works. The carpenter who was prepping the trim discovered (how fitting) carpenter ants on the back wing of the house. Bummer. We're waiting for the exterminator.
End of vacation – tomorrow we'll see Cirque du Soleil ("Totem") perform at Boston Marine Terminal.